Well it's been lovely and sunny here all day and I've had the day of work which makes it even better.
So far today I have cycled to the gym; done some washing; started a beading project (more of that later) and made the most of the sunshine by having my lunch in the garden! A nice way to spend a day off I think.
As you may have gathered from earlier posts my sister is getting married this year. Like all 'proper' girls I have been consumed by thoughts of which shoes to wear, pretty much since the engagement was announced! (The dress is taken care of as I am one of the bridesmaids).
Both my sister and I agree that these are the perfect bridesmaid shoes:
but as they cost more than my first car, perhaps a little excessive!
So yesterday we decided to hit the
Trafford
Centre (or the gates of hell as I prefer to call it) in search of some 'nearly perfect' bridesmaid shoes. We knew we were safe from temptation as
Selfridges
don't stock Manolo
Blahnik
!
We trawled every shoe shop and shoe concession in the place, including a long and lingering look at the Jimmy
Choo
bridal range in
Selfridges
, but finally settled on these in
Debenhams
: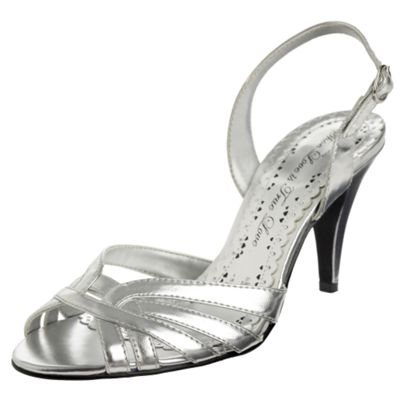 which were a much more reasonable £18, with the idea that I would do a bit of 'shoe customisation' for a bit of Manolo inspired
bling
!
So here is today's beading project aka 'pimp my shoes':


My dress has a clear and purple crystal brooch on the front which provided the inspiration for the design.
This is only the first attempt and needs a bit of fine tuning but I am pleased with progress so far.
Cheers,
Ruthie x